---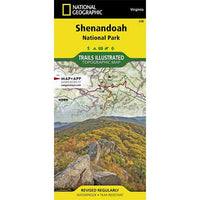 Product Description
This Trails Illustrated topographic map is the most comprehensive and complete recreational map for Shenandoah National Park.
The map includes valuable wilderness tips and Leave No Trace guidelines, along with updated trails, trailheads, points of interest, campgrounds, and much more. Printed on waterproof, tear-resistant material with a plastic coating for extreme durability.
Measures Approximately 4 1/4" x 9 1/4"; folded and 25 1/2" x 37 3/4" fully opened. Scale = 1:75,000.