---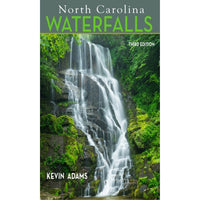 Product Description
Since the first edition of Kevin Adams's North Carolina Waterfalls came out in 1994, this book has sold almost 65,000 copies. Since the 1990s, Adams has established a widespread and well-respected reputation as a photographer, naturalist, writer, and teacher. His nature photography seminars and photography tours are widely popular.

In this third edition of his classic photography/hiking guide, for the first time Adams is finally given the opportunity to showcase his beautiful color photographs. Although he provides information for 1,000 waterfalls in this new book, Adams specifically highlights over 250 of the best waterfalls found in North Carolina with full descriptions, comprehensive directions, and four-color photographs.

New additions to the selection of waterfalls include:
High Falls on the West Fork of the Tuckasegee River

Fall Creek Falls in the new Mayo River State Park
Reece Place, East Fork, and Graveley falls in the new Headwaters State Forest
Two waterfalls in Pinnacle Park in Sylva
Many gems hidden away in Pisgah and Nantahala national forests unknown to the general public
Waterfalls east of the mountains such as Carvers Falls in Fayetteville and Lanier and Fish Jump falls in Raven Rock State Park
From its comprehensive coverage and detailed trail directions to its helpful photography tips and beauty ratings, the new North Carolina Waterfalls remains the definitive guide to its subject.

About the contributor(s):

In addition to North Carolina Waterfalls, Kevin Adams is the author of seven other books and their numerous revisions. He has taught nature photography seminars since the early 1990s and leads popular tours in the NC mountains to photograph waterfalls. He is the man behind the Digital After Dark blog and the free Night Photography News e-newsletter. He lives in the mountains of North Carolina.