---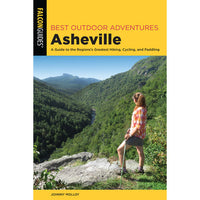 Sale
Product Description
Publisher: Falcon Guides (November 1, 2020)
Language: English
Paperback: 272 pages
Dream It: Who says you have to travel far from home to go on a great hike, paddle, or bike ride? Best Outdoor Adventures Asheville details forty of the best hikes, paddles, and bike routes within an hour's drive of the Land of the Sky (along with extra information on climbing and camping adventures), perfect for the urban dweller and suburbanite who may be hard-pressed to find great outdoor activities close to home.
Plan It: Best Outdoor Adventures Asheville provides the latest information to plan a customized trip.
More- and lesser-known hikes.
Full-color photos and maps, detailed trail descriptions, and trailhead GPS
Insightful hike overviews and details on distance, difficulty, canine compatibility, and more.
Do it: Explore Asheville's diverse landscape through its network of hiking, biking, and paddling trails, with information on camping and climbing hotspots in the area.
Table of Contents
Introduction
How to Use This Guide
Map Legend
Hiking Adventures

Big Fork Ridge Circuit
Mount Sterling Tower
Little Cataloochee Historic Hike
Max Patch Loop
Lovers Leap
Falls of Hickey Fork
Jerry Miller Loop
Art Loeb Trail Loop
Falls of Yellowstone Prong
Looking Glass Rock
John Rock Loop
Mount Pisgah
Avery Creek Falls and Twin Falls Loop
Bradley Creek Circuit
Waterfalls of DuPont Loop
Mount Mitchell State Park Loop
Crabtree Falls
Trails of Linville Falls
Linville Gorge Wilderness Hike
Lake James State Park Hike

Bicycling Adventures

French Broad River Greenway
Explorers Loop at Bent Creek
North Carolina Arboretum Ride
Point Lookout Trail
Wimba Loops at Lake James State Park
Tindo Loops at Lake James State Park
Oklawaha Greenway
DuPont State Forest Ride
Estatoe Trail and Greenway 
Blue Ridge Parkway Ride

Paddling Adventures

French Broad River: Redmon Dam to Barnard
French Broad River: Westfeldt to Bent Creek
Lake Julian
Lakes James: Catawba River Arm 
Lake James: Paddy's Creek Area
French Broad River: Pisgah Forest to Blantyre
French Broad River: Rosman to Island Ford
Lake Adger
Lake Oolenoy
Bear Creek Lake

Camping Adventures around Asheville
About the Author
About the Author

Johnny Molloy is a writer and adventurer based in nearby Johnson City, Tennessee. His outdoor passion started on a backpacking trip in Great Smoky Mountains National Park while attending the University of Tennessee. That first foray unleashed love of the outdoors that has led Molloy to spending most of his time hiking, backpacking, canoe camping and tent camping for the past three decades. Friends enjoyed his outdoor adventure stories; one even suggested he write a book. He pursued his friend's idea and soon parlayed his love of the outdoors into an occupation. The results of his efforts are over 60 books. His writings include hiking guidebooks, camping guidebooks, paddling guidebooks, comprehensive guidebooks about a specific area and true outdoor adventure books throughout the eastern United States, including hiking guides to North Carolina's National Forests, Great Smoky Mountains National Park, the Triad and the Triangle.

Molloy writes for varied magazines, websites, and is a columnist/feature writer for his local paper, the Johnson City Press. He continues writing and traveling extensively throughout the United States, endeavoring in a variety of outdoor pursuits. His non-outdoor interests include American history and University of Tennessee sports. For the latest on Johnny, please visit www.johnnymolloy.com.